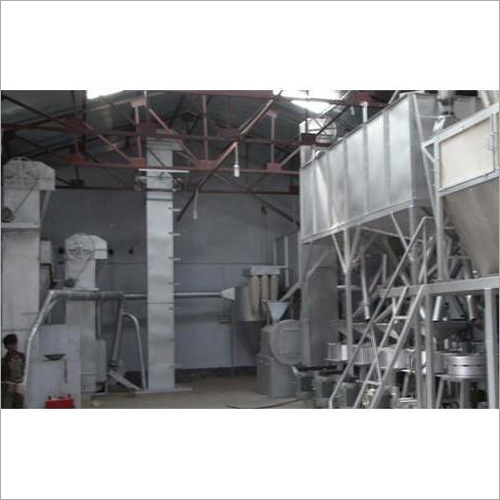 Industrial Flour Mill
Product Description
Highly demanded and easily installable Industrial Flour Mill is providing by our firm to the customers. This Wheat Flour Mill Machine is extensively used in heavy duty industries for various applications. On the other hand, our Wheat Flour Mill Machine is tested completely at many levels to assure its quality.
Features:
Consistently top rated
Used across several industries
Top class quality
The Fully Automatic Whole Wheat Flour (Atta) Plant consists of the following Machineries:
Elevators, Wheat Cleaner, Emery Wheat Roller, Water Sprinkler, Wheat Storage Tanks, 24" Horizontal Chaki, Pneumatic Arrangement, H.P. Blower, Air Locks, Dust Collectors, Centrifugal System (Flour Cleaner) , All pipeline and Fittings, All other accessories and fittings.
Technical Specifications:
2 Chaki Plant: 350 kg - 400 kg per hour, 47 H.P- 50 H.P
4 Chaki Plant: 750 kg - 800 kg per hour, 77 H.P- 80 H.P
6 Chaki Plant: 1150 kg- 1200 kg per hour, 107 H.P-110 H.P
8 Chaki Plant: 1550 kg - 1600 kg per hour, 137 H.P-140 H.P
10 Chaki Plant: 1950 kg - 2000 kg per hour, 170 H.P- 180 H.P
| | |
| --- | --- |
| Minimum Order Quantity | 1 Set |
| After Sales Service | Yes |
| Capacity ( ton per day) | 0 to 4, 5 to 9, 10 to 19, 20 to 39, 40 to 100, >100 |
| Capacity (Ton/Day) | 0 to 5, 5 to 10, 10 to 20, 20 to 40, 40 to 100 |
| Certifications | ISO 9001:2000 |
| Condition | New |
| Condition | New |
| Design | Standard, Customized |
| Dimensions (L*W*H) in feet | Depends upon Plant Capacity |
| Operation Mode | Semi-Automatic, Automatic |
| Power rating | 31-100 HP, > 100 HP |
| Use | Commercial |
| Warranty | 0 - 6 months |